Why Did Microsoft Buy Minecraft? For HoloLens
In September 2014 Microsoft bought Mojang, the Swedish developer of Minecraft, for $2.5 billion (£1.5bn). With over 60 million sales of Minecraft since it's launch in May 2009, the game is one of the most popular of all time, but that wasn't the only reason Microsoft made the purchase.
In a recent interview with The New York Times, Microsoft chief executive Satya Nadella said, "Let's have a game that, in fact, will fundamentally help us change new categories. HoloLens was very much in the works then, and we knew it."
Announced in January, HoloLens is Microsoft's newest bid at wearable technology, a headset through which the user views an augmented reality where information is displayed over real-life objects. 
The first demo showed a user walking about his house and having information – such as the weather – displayed over surfaces. (An artistic impression of which can be seen in the picture.) Other than making it feel like you're living in a science-fiction movie – or possibly Deus Ex without the cybernetics – it's debatable whether such features would get HoloLens units shifting by the droves, especially considering the lack of success of Google Glass, Google's foray into augmented technology.
Microsoft seems aware of this, however. When the HoloLens project was first made known to Satya Nadella, he decided to integrate it with the whole of Microsoft, as opposed to only one division. That's meant working with the people at Microsoft-owned Skype, as well as Windows and Xbox to create something with a broad spectrum of features, like having a film always playing in front of you as you move about your home; to educational purposes such as assisting medical students in anatomy; or building castles on your coffee table. Which brings us back to Minecraft.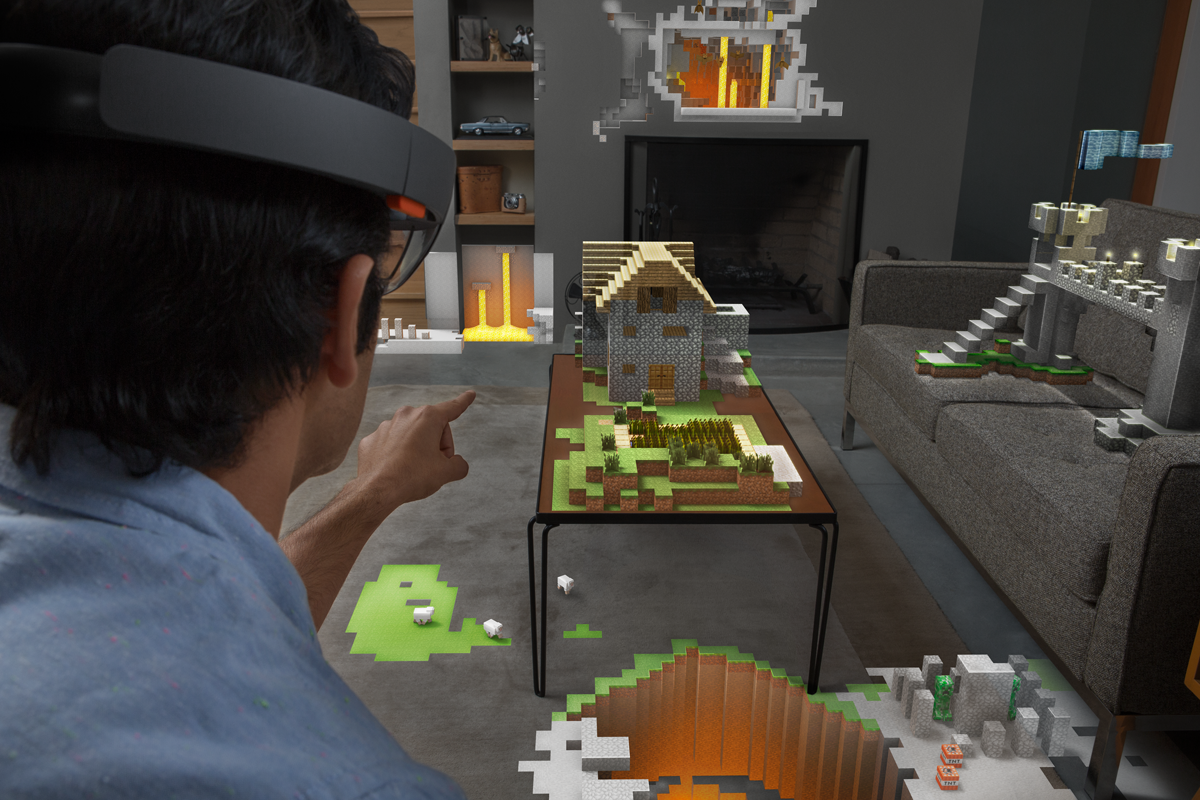 Using cameras from Kinect, HoloLens can display virtual images on lenses in front of your eyes and then map your relative position, meaning that the images stay in the same place as you move around them. This makes Minecraft even more comparable to a digital Lego, as the structures you create are observable as if they were real objects, and is different from other headset competitors such as Oculus and Sony, who's headsets put a complete screen over the user's eyes for virtual reality.
Excitingly, this means players can not only build in but also decorate their houses with virtual constructions, and leads to interactivity such as putting up a house on a table and then smashing it with your hand to reveal a cave below. And while this is pure speculation, is it possible that Windows 10 remote play could make it's way to HoloLens, allowing you to have a virtual screen always accessible for gaming wherever you might be? Time will tell.
Just how much time that will be is as yet unknown. Microsoft say HoloLens will go on sale "in the time frame" of Windows 10, the new operating system that is to be released this summer. Since Windows Vista, there's been at most three years between the release of a new Microsoft Windows, so there could be a little wait yet. And as for price, a current Microsoft executive has reportedly said HoloLens will cost significantly more than a games console. It's no confirmation, but you might want to start saving up now
To keep up-to-date with the latest Xbox One news, reviews and competitions, make sure you're a member of Xbox One UK's Facebook Group, that you've Liked our Facebook Page, and that you're following us on Twitter!
Tags Augmented RealityGamingHoloLensMinecraftXboxXbox OneXbox One UK
You may also like...